Issue
Why doesn't deferred tax reconciliation include deferred gain from CGT relief?
Cause
Class currently doesn't fully support tax effect accounting on the amount of notional deferred gain when the fund has taken up CGT relief using the proportionate method.
By applying the proportionate method for CGT relief and deferring the notional gains, the fund will have a future tax liability and Class should create a provision for deferred tax for the amount of notional deferred gain if the fund uses tax effect accounting.
The deferred tax asset (DTA) calculation will be correct if the fund is in an overall unrealised loss position.
Resolution
To resolve this issue you can manually take up the missing deferred tax liability (DTL) via the "Post Fund Income Tax Expense".
Navigate to Fund Level > Periodic Processing > Period Update
Select the financial year

Click on View/Rollback
Click on Post Fund Income Tax Expense
Enter the calculated amount in the Provision for Deferred Tax field - refer to the calculation below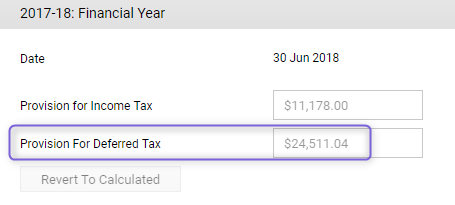 Example calculation
In the Unrealised Capital Gains report below, the missing DTL calculation is:
15% x $213,062 = $31,959.3
The amount will not be reduced further by the pension exemption factor.
The amount to be entered in the Provision for Deferred Tax field calculation is:
$24,511.04 + $31,959.3 = $56,470.34