Issue
What do I see when the client writes back or sends a new message?
Resolution
When a client replies to you, the status in Fund Messages changes to Response required.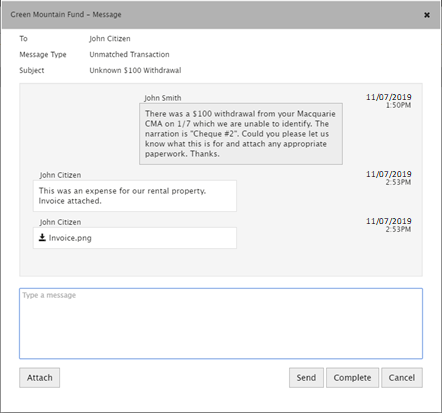 If you need further information, just type a message and click on Send. However if you are now able to process this transaction correctly and are happy with the paperwork, just click on the Complete button and for both you and your client the status of this message will be set to Completed. If you wish you can send a final reply to the client and complete the message at the same time (e.g. 'Thanks'). When you start to type a message or attach a file, the caption on the Complete button will change to Send and Complete.
You can view any attached documents by clicking on them here. These documents are also automatically added into Fund Documents so you can easily access and retrieve them later. These documents will have the Attachment tag assigned to them so you can search for them from fund documents if necessary.
Refer to Client Messaging Fact Sheet for more information.