Introduction
A commonly asked question received by the Class Support team is: How do I find out which funds currently invest in a particular security such as BHP? This information can be especially useful if you want to advise clients to undertake certain corporate actions such as share buy-backs or rights issue. This page discusses the options available whereby you can get this information.
Getting The Funds List
There are currently two ways of getting the list of holdings in Class:
The table below shows the difference between these two methods:
| | | | |
| --- | --- | --- | --- |
| Method | How It Works | Date Range | Scope |
| Method 1: Excel Transaction Loader (Preferred Method) | Gives a list of funds that hold a particular security on or before the ex-date/entitlement date | Can specify a date for the security holdings | At Business level, but can specify a particular brand within the business |
| Method 2: From the Browse Securities screen | Only shows a list of funds that currently hold a particular security as of today | Uses current date, i.e. today's date | Business level only |
Method 1: Use Excel Transaction Loader
To download the Excel Transaction Loader file


Navigate to Business Level > Transactions > Excel Transaction Loader

The

Download Transaction Loader Spreadsheet

screen will appear, then click on the

Click Here

button






Once you complete the download and open the Excel Transaction Loader, go to the CorpAction tab.


To be able to use the Excel Transaction Loader, be sure to enable editing and content such as Macros when prompted.

Click on Generate Corporate Actions button




The Corporate Action Window will be displayed



You can now:
Enter the Security Code (e.g. BHP)
Select Corporate Action Event Type (e.g. Buyback)
Nominate an Entitlement Date (e.g. 08/04/2011)
Enter a Payment Date, otherwise leave it blank


Enter Class Username and Password
Click Login



It will then display all the funds in the Brand currently holding BHP shares on a selected date, e.g. 08/04/2011

Method 2: From The Browse Securities Screen
Navigate to Business Level > Investments > Browse Securities
On the search box, type in the ASX/APIR or the security code. This will produce a list of investments that have this code.

Put your cursor on the desired security and right click. A list of screen options will appear.

Select Holdings




On the Holdings tab, you will see a list of all funds within the business that has this security.



Although there is no export button you can highlight all rows like the screenshot below to select all: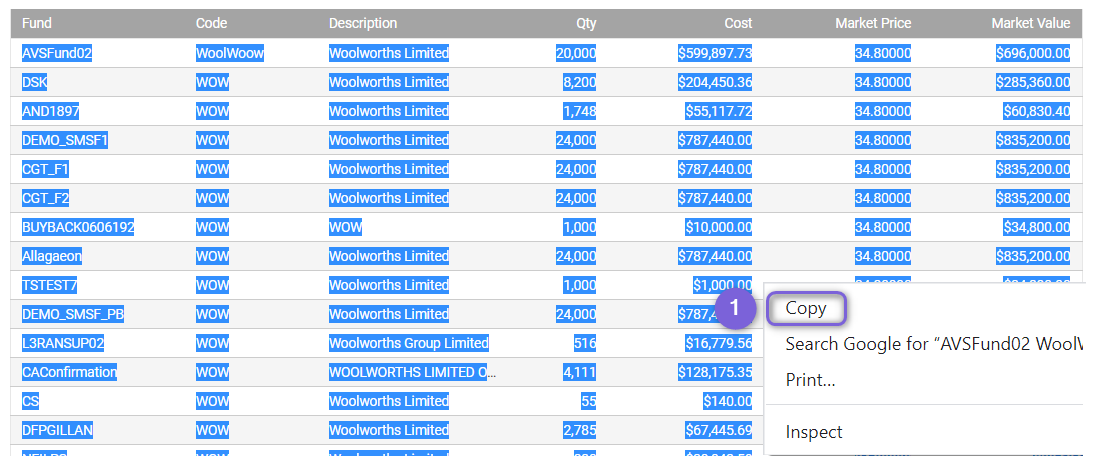 Right Click + Copy

on your mouse or Press

Ctrl+C

on your keyboard to copy the list.
Then open an Excel spreadsheet and paste using

Right Click + Paste

on your mouse or press

Ctrl+V

on your keyboard.