Illustrated Example
A SMSF has five parcels of WDC stapled security (total 3,384) purchased on various dates with the following cost bases and tax deferred adjustments:


Prerequisite Processing Checklist
Steps

Importance

Description

Example

1) Process Normal Distribution

Compulsory

Process all regular distributions for WDC for the financial year to 30 June 2014 and match them with the cash received.

$0.255 x 3,384 (Aug 2013) + $0.255 x 3,384 (Feb 2014)

= $0.51 x 3,384 = $1,725.84

2) Enter Distribution Tax Statement

Compulsory

Ensure the 2014 Annual Tax Statements for WDC received on or after 31 July 2014 are entered as per tax statement.

A sample tax statement processed using the details in the example.
Step 1: Bulk Processing WDC Restructure (Spin-off) - Business Level (Recommended when all 2014 distribution tax statements for WDC have been processed)
Navigate to Business Level > Investments > Corporate Actions Console
Click on the

WDC (Reconstruction - Spinoff)



Tick the column header box to select all funds as shown above

Click

+ Process


Select with Demerger Rollover Relief and click Continue as shown below:



All funds that are successfully bulk processed, will be in Green. An envelope icon will be displayed in the Messages column for any funds with error messages.


You can hover over the envelope or click on the envelope to read the error message in details. Please refer to Appendix 4 for manual processing of this corporate action.


Step 2: Bulk Processing WDC Restructure (Code Change) - Business Level (Recommended after WDC Spin-off has been processed)
Navigate to Business Level > Investments > Corporate Actions Console
Click on the

WDC (Reconstruction - Code Change)



Select all funds, except for the two funds that you need to do manual processing for

Click on + Process



All selected funds have been processed with the successful code changes


Appendix 1 - Why Class does not automate the in specie distribution of 0.11 cents per converted units of SCG for the creation of WRT1 and WRT2?
The annual statements for WDC currently display an in specie distribution which relates to the restructure.
In most cases, they are nominal, immaterial and are designed to create additional entities so the new stapled securities Scentre Group (SCG) can be properly established.
Given the in specie distribution made by WT which was applied to acquire 1 WRT1 unit for $0.001 and 1 WRT2 unit for $0.0001 and stapled together with WT and WHL to form SCG, it would be more intuitive to process such nominal distribution directly on SCG even if it was listed on the WDC tax statement.
To replicate the effect of these nominal in-specie distributions by WDC, the following set of transactions may be processed as an optional Step 3.
Process a Distribution Cash for SCG (instead of WDC) for the amount received as an in-specie distribution, with an accounting date and payment date of 30 June 2014. In this example, 3,348 /1,000 x 1,246 x ($0.001 + $0.0001) = 4172 x $0.0011 = $4.59.
Process a Capital Call for SCG for the amount equal in value to the in specie distribution on 30 June 2014. This is used to match the amount in Step 1, e.g. $4.59
Process a Distribution Tax Statement for SCG and classify the Distribution income amount received in Step 1, e.g. $4.59 as tax deferred.
The net effect on the cost base whether an amount is treated as tax deferred or matched with capital call is the same.
For this reason, some users may form the view that because these are just internal transfer of cost base within the same stapled securities, therefore they may be disregarded.
Given most clients have already processed their distribution tax statements for WDC ignoring the non-cash component, thus reconciling with the distribution cash received, adding these steps may create extra work with no real cost base implications.
Appendix 2 - How do the Class customised CA templates do the calculation?
Using the example details supplied above, the calculation is performed as follows: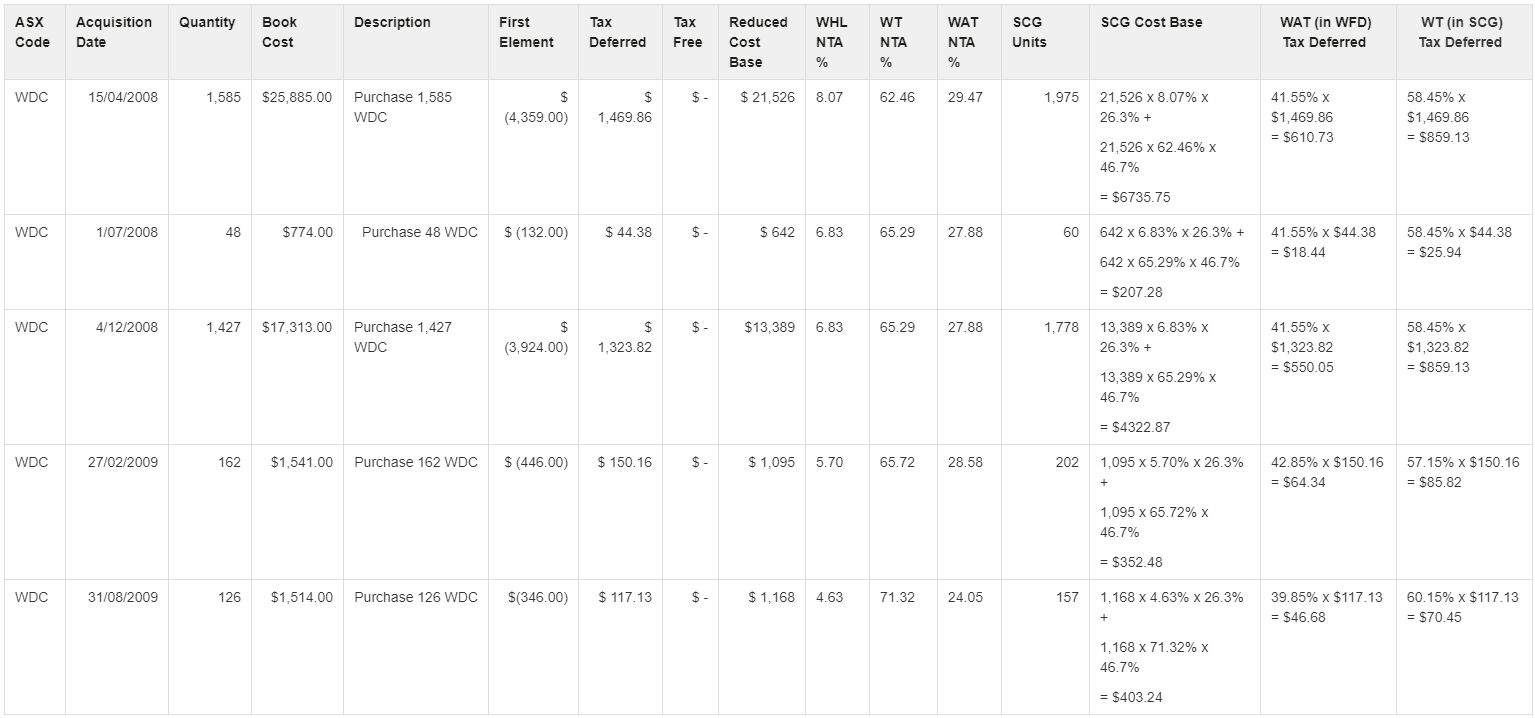 Appendix 3 - What happens if the tax deferred adjustment will cause WDC cost base to go negative?
Class currently does not have the functionality to automatically reduce the cost base to nil and report the excess as capital gain.
The current method is to record the excess tax deferred component on the tax statement from the tax deferred field to discountable capital gain provided WDC is held for more than 12 months, or other capital gains if the WDC is held for less than 12 months.
Appendix 4 - How should I do this corporate action if I need to do this manually?
Example, a SMSF purchased 1,000 shares in Westfield Holdings Limited (WHL) on 01 August 2003. Immediately before the stapling, the cost base of the shares was $15.48 per share or $15,480. The split of the cost base will be as follows:
| | | |
| --- | --- | --- |
| Element | Initial cost base (reduced cost base) | NTA % |
| WHL | $15.48 x 9.09% = $1.41 | 9.09 |
| WT unit | $15.48 x 52.39% = $8.11 | 52.39 |
| WFA unit | $15.48 x 38.52% = $5.96 | 38.52 |
(Source: How do I work out the cost bases of the elements of the stapled securities that I received?
If the SMSF held Westfield America Trust or Westfield Trust prior to the stapling occurred on 16 July 2004, the NTA breakdowns and hence the cost base allocation among each entity may be different.
The cost base transferred into SCG = $15,480 x 9.09% x 26.3% + $15,480 x 52.39% x 46.7% = $4,157.43
Total tax deferred of $4,049.8 x (196.12 / (196.12 + 208.86)) = $4,049.80 x 48.43% = $1,961.20 (with WT in SCG).
Step 1: Select the WDC Corporate Action either by
Navigate to Business Level > Corporate Actions Console
or
Navigate to Fund Level > Investments > Browse Corporate Actions
Click on Action to process a spin-off/demerger transaction from WDC to SCG.

You may see the following warning message:



This warning message means for any pre-July 2004 WDC parcels, Class will prefill the cost base and tax deferred split using the same ratio when WDC was originally stapled on 16 Jul 2004. However, you should review the prefilled cost base adjustment and make any necessary changes to reflect the actual cost base and tax deferred split based on your calculation.

For any post 12 July 2004 WDC parcels, Class will use the calculation logic explained in Appendix 2 above.
Once you are happy with the numbers, click Submit.
Step 2: Process a Code Change or Takeover, the remaining WDC cost base will be transferred into Westfield Corporate - Stapled Securities (WFD).