Issue
How do I record the 2017 distribution - Tax Statement event for PLA0002AU in Class with a foreign income tax offset attached to the capital gain derived from foreign assets when the amount is greater than the foreign income? The outcome I want is:
Cash is still reconciled; and
Foreign income tax offset can be entered correctly
Resolution
Below is a screenshot of an Annual Tax Statement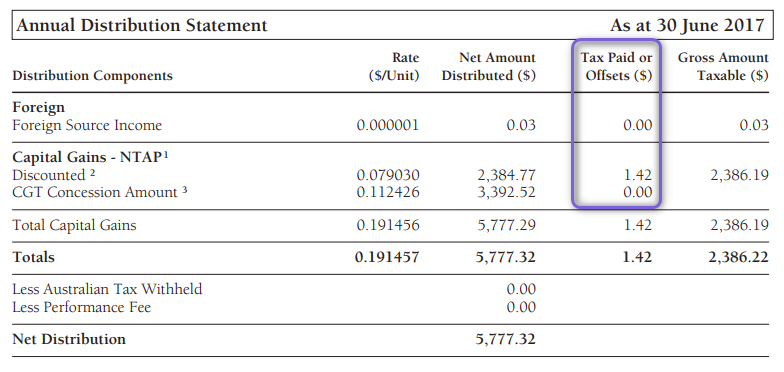 Navigate to Fund Level > Transactions > Fund Income > Distribution - Tax Statement
Entering the other components from the Tax Statement as per usual, process the following additional steps
Record the Foreign Income Tax Offsets derived from foreign capital gains in the Tax Credit field under the Foreign Income section
In this example, the value is $1.42
Calculate the Gross Taxable Amount from Capital Gains - Non-Taxable Australian Property (NTAP) and record the amount in the Grossed up Capital Gains Discount Method field

In this example: Grossed up Capital Gains Discount Method: $4,772.38 = $2,386.19 x 2


The workaround will slightly overstate the assessable foreign income by the amount of the foreign tax credit but the amount is immaterial. In the above example, the foreign tax credit was $1.42 based on 30,175.57 units of PLA0002AU.