This section will look at processing the disposal of the collectible asset.
Navigate to Fund Level> Transactions > Investment - Sell > Collectible Item Sale
Select Investment Account, this is the collectible item being sold.
Enter Contract Date, the date the agreement to sell the collectible asset took place.
Enter Settlement Date, the date on which the transfer of collectible is completed.
Enter Consideration amount, being the total disposal amount for the asset.
Enter GST in Consideration, which is the total GST

applicable to the sale price. (Only applicable if Fund is registered for GST).

Enter Total Brokerage, non-mandatory field.
Enter Brokerage GST, which is the

GST applicable to the brokerage. (Only if Fund is registered for GST).

Total Cost is automatically populated based on the amounts entered.
Enter Description, or use the default "Collectible Item Sale"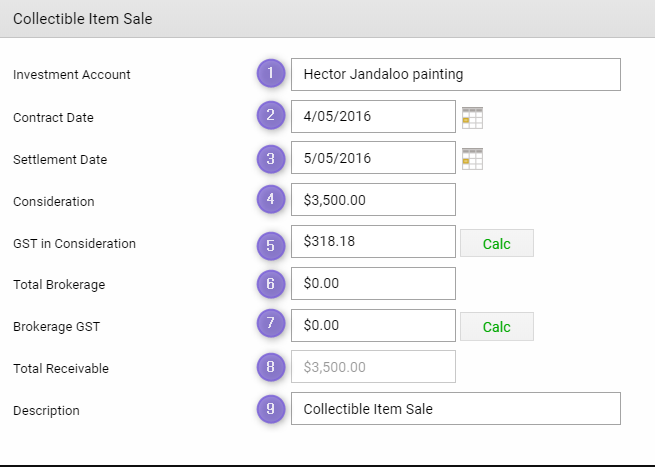 What's Next?
Learn how to revalue your collectible investment.