Xero Practice Manager (XPM), is a practice management system from Xero which integrates with Class. The integration saves time through removing duplication of data entry for client details and ensures your data is consistent across your business.
In this article we will show you;
Class/XPM integration will allow you to:
Link existing XPM clients instantly to existing Class Funds
Create new XPM client records instantly for any new Class entities
Automatically synchronise Class details with XPM Client records. As you update the Fund and Member details in Class, details are sent to XPM (the information maintained includes addresses, contact details, ABN/TFNs, name etc). Changes in XPM are not sent to Class, so ensure you update Class if you want to change details in XPM.
Create a widget in the Class Fund Dashboard that supports:

creating a new XPM job
visibility of open jobs, current tasks and their status
accessing the client's record in XPM
Please refer to www.xero.com/au/practicemanager for more details on XPM.
Integration Setup in XPM
To set up the integration between XPM and Class, complete these two steps in XPM:
Navigate to Xero Practice Manager > Business > Settings > Add-ons
Then click Generate Key next to 'Class Super SMSF' and copy the key.
For each existing client record in XPM add the Class fund code as the export code to each client in XPM.


Any fund records in Class that do not have a matching export code (Class fund code) in XPM will be automatically created. If step 2 is not correctly completed duplicates of existing Class funds will be created in XPM when the synchronisation is completed.
Integration Setup in Class
Navigate to Business Level Settings > Fund defaults > Integrations Settings
Enter/paste the Client Account key you generated in XPM as described above.

Click on Save and Sync to trigger a synchronisation of Class Funds with XPM Clients.
The synchronisation will complete automatically in the background. You may now close this window.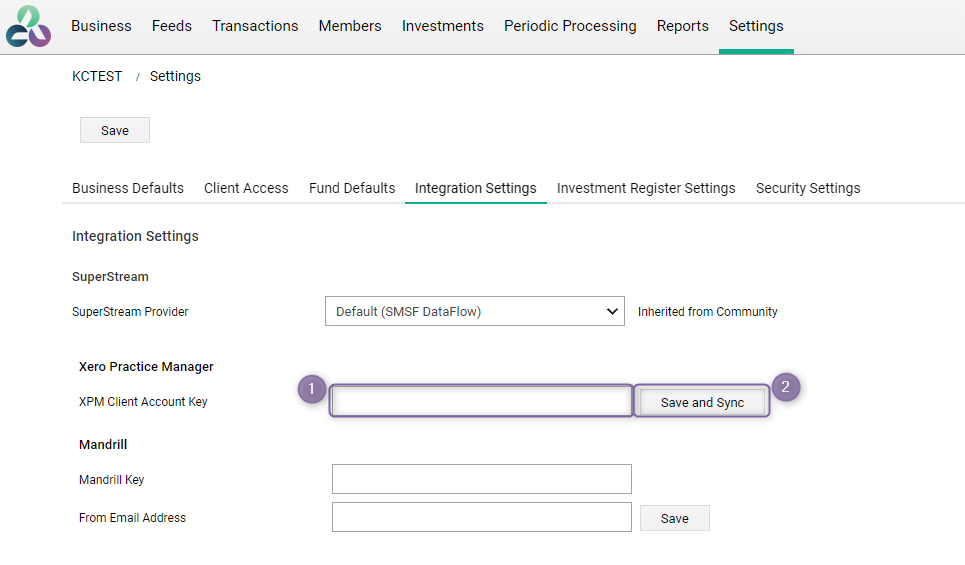 From this point on, any changes to funds in Class, or new funds created in Class, will be synchronised with XPM automatically.
The synchronisation may take time depending on the number of funds you have on Class. There are no progress indicators, and you can close Class and the Sync will complete in the background.
Disabling the Integration
Navigate to Business Level > Settings > Fund defaults > Integration Settings
Delete the Client Account key for Xero Practice Manager.

Click on Save and Sync to stop the synchronisation of Class Funds with XPM Clients.
Class XPM Mapping
| Property in XPM Client record | Property in Class |
| --- | --- |
| Name | Scope Description (Fund Name) |
| Address | Fund Physical Address |
| City | Fund Physical Address City |
| Region | Fund Physical Address State |
| PostCode | Fund Physical Address Postcode |
| Country | Fund Physical Address Country |
| Postal Address | Fund Postal Address |
| Postal City | Fund Postal Address City |
| Postal Region | Fund Postal Address State |
| Postal Post Code | Fund Postal Address Postcode |
| Postal Country | Fund Postal Address Country |
| Phone | Fund Phone |
| Fax | Fund Fax |
| Export Code | Fund Scope Code |
| Tax Number | Fund TFN |
| Company Number | Fund ACN |
| Business Number | Fund ABN |
| Property in XPM Client Contacts | Property in Class |
| --- | --- |
| Name | Member first name and last name |
| Salutation | Salutation for member (cannot be seen in UI) |
| Addressee | Prefer name for member |
| Mobile | Mobile for member |
| Email | Email for member |
| Phone | Direct phone for member |
| Position | will always be 'member' |