Issue
In 4.9 Release, any unallocated income caused by modified events with profit or loss implication will display as a balancing item on the Statement of Financial Position.
This article explains how unallocated income will be processed in the subsequent period update.
Cause
If you have run a period update to a certain period say 30/06/2019 and then you realise that you have missed a transaction for 04/02/2019, if you do not roll back your period update before creating this transaction you will end up with a modified event in your period update as shown in the screen shot below:

When you are creating a transaction prior to your period update you should receive a warning in Class such as the one below: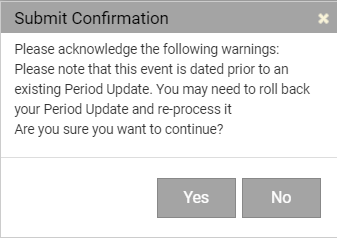 If you click yes and continue you will receive another warning as shown below:

If you ignore all these warnings and do not roll back your period update you will keep the modified events in the period update.
Resolution
The following year when you run your first period update you will receive a warning to tell you that there was an unallocated balance in the prior period. If you go ahead and process the period update the unallocated amount will be processed to the current period as non-taxable income or losses. A screen shot of the warning is shown below:

Please Note: tax return works only on a specific financial year basis. This means if there any deductions you under-claimed in the previous financial year, you cannot simply claim them in the current financial year. If they were material enough, you should amend the tax return and re-lodge it.