Issue
This article shows you the data required to process a pension drawdown for a pension that has Pre-July 2007 ETP components (i.e. pension has not been crystallised). The Pension drawdown consists of one screen where you may enter all of the details for the processing of a Drawdown Pre - 07 ETP Components, for one or many members.
Resolution
Navigate to Fund Level > Members > Pension Drawdown - Pre 07
Below is the screenshot for a pre-July 07 pension drawdown event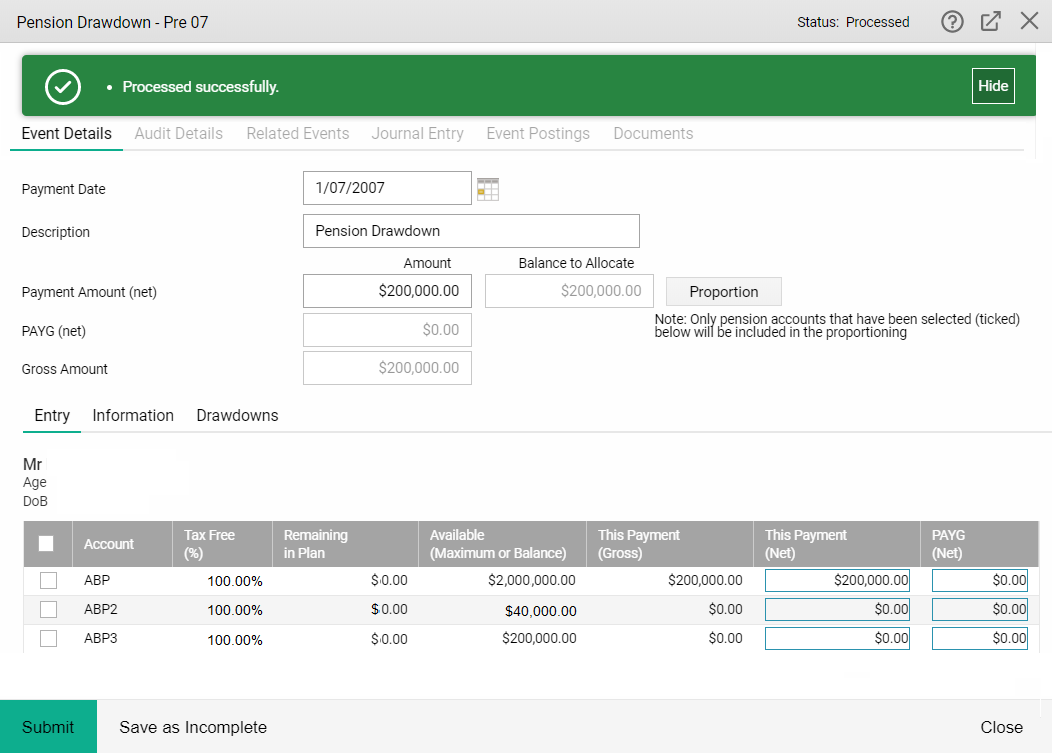 To get to this business event, copy the link below into a browser and update the "Business Code" and "Fund Code"

https://app.class.com.au/f/

businesscode/fundcode

/event-manager/event/PensionDrawdown/new?sip_popout=true




Press Enter on the keyboard - the business event will display
Enter the Payment Date - the pension account will be visible
Enter the pension payment


The Proportion functionality is restricted by ticking the checkboxes. This provides you with the option to proportion across all members, specific members or even specific pension accounts. The amount to be proportioned is then split among the selected pension accounts in the ratio of the remaining Net Yearly Planned Amount. For example, if account A has $10,000 net remaining, and account B has $20,000 net remaining, then the amount to be proportioned is split at a 1:2 ratio.

Once the percentage of the net yearly planned amount has been calculated, the pension payment and PAYG are allocated in the same ratio to the selected accounts. For example, if 20% of the net remaining amount is being consumed, then 20% of the remaining PAYG amount is then also consumed. If an account has zero net remaining, then it is not included in the proportioning algorithm.

It should also be noted that the Proportion functionality will allocate up to the remaining gross amount only. If the proportioning could not consume the entire amount to be proportioned, then a warning message will be displayed indicating how much remains to be allocated. The user can then update the fields indicated to allocate the balance of the payment and PAYG.

Confirm and click Submit to complete the transaction



After the event is created, the following tabs will become available, Event Details, Audit Details, Related Events, Journal Entry, Event Postings and Documents.

When processing subsequent pension drawdowns, you will see the previous withdrawals displayed in the Drawdowns tab.