Issue
How to correctly Initiate Rollover Out via SuperStream in Class and generate the Rollover benefit statement via auto-generated event.
You should refer to SMSF SuperStream Readiness Checklist and Prerequisite prior to initiating Rollover.
Resolution
Do not process a manual Rollover out event for Rollover benefit statement as SuperStream will create Auto Rollover Out event with a Rollover Benefit Statement.
Step 1: Navigate to Fund Level > Periodic Processing > Period update
Run a Period Update a day before the rollover out (Period Update must be performed if you want to do a full/substantial rollover out).
Step 2: Navigate to Business level > Rollover and Release Authorities console
Click on Initiate Rollover Out
Step 3: Complete the form and make sure the member has sufficient balance in the Accumulation Account.
Step 4: After completing the Rollover Out form
Click Initiate Rollover Out
Status will change to "Request Received"
Step 5: Read the prompt and make the payment using the Payment Reference Number (PRN) provided.
Class does not make the payment. The trustee or member of the SMSF needs to make the payment using the PRN number.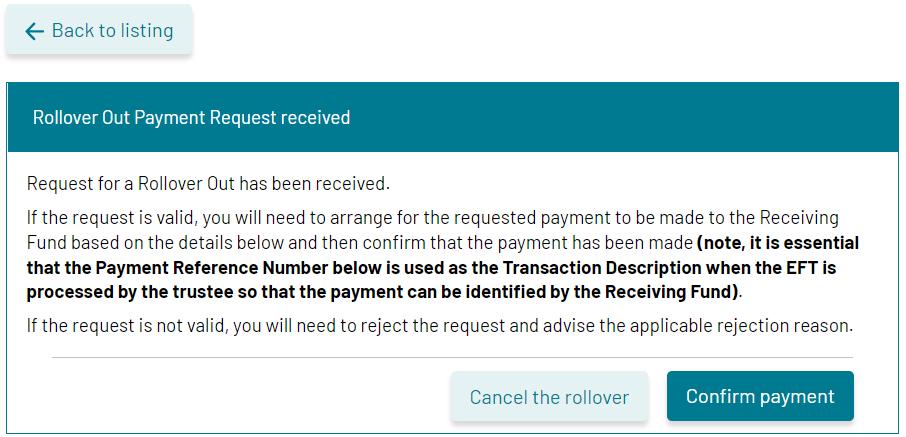 Step 6: If you make any mistake, you can Cancel the rollover at the above stage, if the Payment has not been made.
If the payment has already been made and you realise there is an error, then the receiving entity should refund the monies to the bank account and Cancel the rollover.
If you have clicked on confirm payment and realised there is an error, you need to contact the receiving entity immediately to (i) cancel the Notification and (ii) refund the payment. Then contact support@class.com.au to delete the incorrect SuperStream event.
Refund and cancellation are excluded from the SuperStream process, you will need to liaise between the trustee/member and the receiving fund (rollover out) or ATO (release authorities).
Step 7: If all the details are correct and payment has been made using the PRN, click on Confirm payment. This step will generate a Rollover out event automatically with a Rollover Benefit Statement at the Fund level.
Step 8: The status changes to "Payment Not Confirmed", i.e. waiting for the receiving entity to acknowledge the payment as well as the notification
At this step, you will have a Conversation ID starting with Rollover.70116802058.xxxxxxxxx
If at this stage if you want to follow up with the receiving entity, you should use this Conversation ID as a reference number.
Step 9: Once the receiving entity accepts the notification from their end, the notification status will change to "Complete".