The article details how to set up a foreign property in Class, as well as common processing associated with Foreign Property.
We will go through the following steps for Foreign Property;
Setting up Foreign Property
It is recommended that a foreign property asset is set up in Class the same way as an Australian investment property. Details on how to create an Australian property account can be found Property Set-Up.
This way you can take advantage of using the Depreciation Worksheet functionality associated with property accounts.
However, the following reporting categories need to be changed to reflect that is Foreign Property: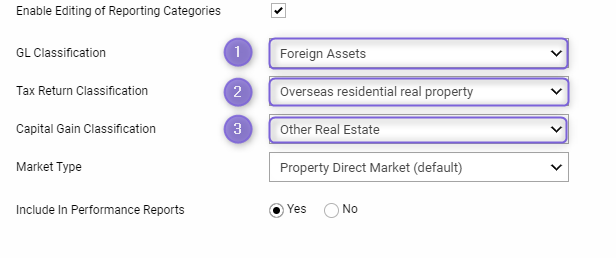 Processing Rental Income and Expenses
Rental and other rental-related income is the full amount of rent and associated payments the SMSF receive or become entitled to when the fund rents out the property, regardless of whether it is paid to fund or its agent.
If the fund has paid tax in another country on its rental income, it can claim an Australian foreign income tax offset in SMSF annual return, which provides relief from double taxation.
Rental Income should be processed as foreign income and converted with foreign exchange rate when is received. Rental expenses should be processed as a foreign deductible expense and converted with foreign exchange rate when is incurred.
Learn how to process Foreign Income or a Foreign Expense
Purchase or Sale of Foreign Property
The consideration used to purchase a foreign investment property should be converted to Australian dollars, any foreign exchange movement will form part of its cost base.
Similar to foreign shares, the subsequent valuation of Foreign Property will have unrealised gains attributable to both the property itself and foreign exchange movement.
As an Australian resident, an SMSF is generally taxed on any capital gains it makes on an overseas asset and must report the gain in the annual return.
If the gain is taxable in Australia and the SMSF has paid foreign tax on it, it may be entitled to a foreign income tax offset, adjusted by capital gain discount and pension exemption actuarial percentage.
What's Next?
Learn how to process Foreign Income or a Foreign Expense