This article details how to process a foreign income event.
Navigate to fund level > Transactions > Fund Income > Foreign Income
Select the investment account for which the income is paid
Select the type of foreign income (Options are Foreign Dividend, Foreign Interest, Non Taxable Foreign Income and Taxable Foreign Income)
Enter a description (default automatically populated is Investment Income)
Enter the date at which the income was entitled
Enter the date at which the income is expected to be paid (When the Payment Date is entered, the Exchange Rate fields will be populated with the relevant exchange rate)
Select the currency the income was paid in from the drop-down
Enter the total amount of income paid
Only if applicable enter any

Foreign Tax amount withheld from the income

If you want to process a Foreign Distribution Reinvestment, you need to select Foreign income as the Income Type and the tick the Includes Reinvest box on the right-hand side of the screen above.
Foreign Tax Credits
Foreign tax credits are automatically calculated and will be deducted from foreign income based on the Country and Income Type shown in the table below.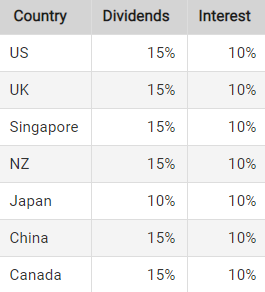 What's Next?
Learn more about Foreign Expense, Selling a Listed Foreign Security and Setting up a Foreign Bank Account