Issue
Period Update error - Fund opening position is not balanced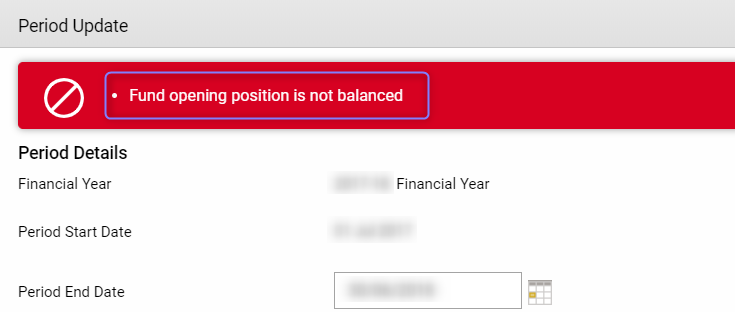 Cause
There is a difference between the total member balance and total assets in the Load Opening Balance page.
To troubleshoot this issue review the Fund Opening Position.
Navigate to Fund level > Fund > Load Opening Balances
Click on Review button
At the bottom of the pop-up screen, a message shows up indicating the difference


Resolution
To resolve this issue, check the 30 June balances in Load Opening Balances and update any incorrect amounts.
Navigate to Fund level > Fund > Load Opening Balances
Go into each tab to confirm the 30 June balances are correctly entered
Update the incorrect amount
Click on Submit
Click on Review to confirm the issue is fixed
For further information on other period update errors, refer to Period Update Error Messages: Summary