Introduction
Rio Tinto announced the successful completion of its off-market share buy-back up to approximately $560 million of capital to shareholders, or 11,566,308 RIO shares representing 2.65% of the issue shares of Rio Tinto (CR 2015/27).
The ex-entitlement date was on 18 February 2015 and buy-back completion date was on 7 April 2015. The buy-back proceeds consist of two components, franked dividend component plus a capital component.
The $39.00 dividend component will be treated as a fully franked dividend and the deemed capital proceeds will be $16.78, being the $9.44 capital component plus $7.34, which is the amount by which the CGT value exceeds the buy-back price.
The share buy-back corporate action is only

optional, i.e. shareholders must choose to participate in the buy-back and the amount subject to the buy-back varies from fund to fund.
This type of Corporate Action will need to be processed at fund level.
Buy-Back Details
The key results of the Rio buy-back are as follows:
| | | |
| --- | --- | --- |
| Buy-Back Description | Per Share | 100 Shares |
| Size | A$560,271,960 | |
| CGT Date | 15 April 2015 | |
| Market price | A$56.3169 | |
| Buy-back discount | 14.0% | |
| Buy-back price | A$48.44 | |
| Scale back | 91.02% | |
| Number of RIO shares bought back | 11,566,308 | |
| % of RIO issued capital | 2.65% | |
| Capital component | A$9.44 | $944 |
| Additional capital component | A$7.34 | $734 |
| Fully Franked dividend component | A$39.00 | $3,900 |
| Tax value | A$55.78 | $5,578 |
Worked Example
The following is an illustrated buy-back example using 100 units of RIO shares processed through the corporate action console: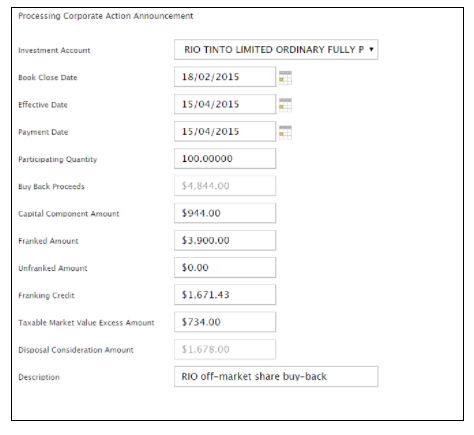 Further Reading