This article explains how to configure notifications for Electronic Signatures.
Navigate to Fund Level Settings > Notification
Users with read-only access shall not be able to change the Notification setting
The creator of the envelope and any additional business contact can opt to get notified on selected statuses of the envelopes.
Enable Notification
Set the preference to turn on or off the notifications, using the Enable Electronic Signature notifications switch under the Electronic Signature tab.

Add Business Contact to Notification Subscription
A pre-requisite is that a contact must be added in the Business Contact section first so that it will appear in this section. Any change to the e-mail address much be made in business contacts. 
Electronic signature notification will be added for the creator of the envelope and any additional recipients that are added using the "+ Add recipient" button by providing the name of the contact listed under the business, selecting the required status subscription, and clicking the "Add Contact" button.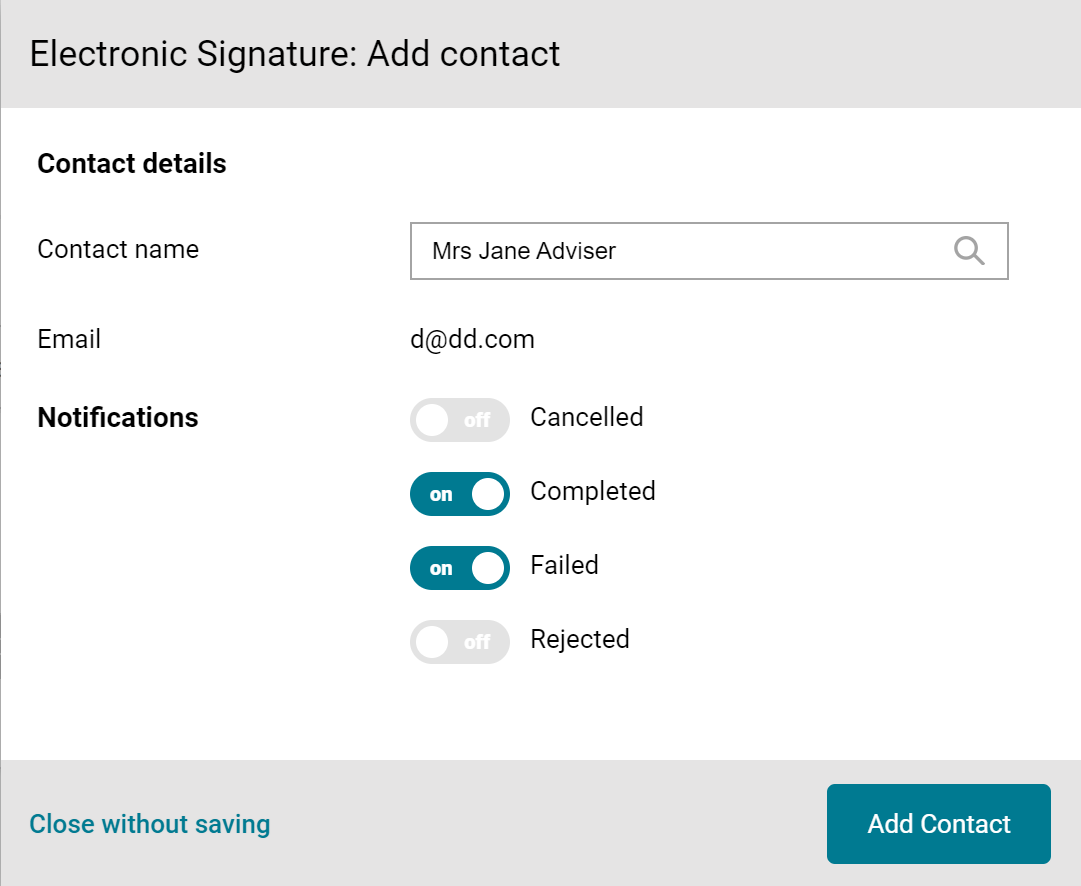 Status Subscription
Opt for one or all status notifications by checking the box under each status and remove any additional recipient:

Envelope statuses available to subscribe are as below and with their description and email sample. Clicking the "Click Here" button in the email notification shall lead one to the Signature Tracking screen in Class.
Note: Contents of email notifications are not configurable.
| | | |
| --- | --- | --- |
| Notification Type | Definition | Notification email |
| Completed | All the signatories have signed the document | |
| Cancelled | The creator of envelope has cancelled the envelope from being signed, thus cancelling the envelope for recipients as well | |
| Rejected | The signatory has declined to sign the document | |
| Failed | The signatory email address provided was incorrect or one or more signatory did not pass the authentication | |
What's Next? 
Configure notifications for SuperStream Rollover & Release Authorities 
Refer to this page on how to add or update a business contact