This article will teach you about:
Live Chat
To access the chat functionality you must navigate to the Help icon located in the top right hand corner of the screen:
Select Help Using Class




Scroll down till you see Get in Touch, then click on Live Chat:





The following screen will appear, start your chat by typing into the text box
Click the Paperclip icon to add any attachments you want to include


Logging a support ticket
Click on the support request icon on the top right-hand corner and then Help Using Class. A popup box appears with relevant help links based on the page you were on. You can also type into the Help box to refine the search for help articles.



If you could not find help and still want to contact us, then scroll down to Get in Touch
Click Leave a message




Select from the following menu items:



Click Class Super or Class Trust if you wish to log a support request for general functionality
Click

Data Feeds

if you wish to log a support request for a specific data feed issue
Click General Enquiries or Requests while logging support requests for items not covered under functionality or data feeds such as Class integrations, enhancement requests or fund transitions

Enter your Name, Email address, Subject, a brief Description and Attachments (optional)
Click Send


When the request has been submitted you will receive an email from support@class.com.au confirming receipt of your request and the assigned support ticket number for your reference.
Guided Walkthroughs
Guided Walkthroughs are interactive tutorials that assist you through some common functions in Class, such as creating a new pension account or setting up your data feeds. They are designed to provide step-by-step instructions on certain functionalities and allow you to complete a transaction while being guided.
How to use Guided Walkthroughs?
Click on the

icon and then

Guided Walkthroughs




A list of available walkthroughs is displayed in the player box. Select the Walkthrough that best fits what process you want to complete and the walk will then step you through the process. If you are an Access Controller, you will first need to click the Help tab at the very top of the player box (see screenshot below for Access Controller).


Using Launchers
There are also some shortcuts (launchers) available that allow you to access Walkthroughs directly from the screen that you are working from.
Look out for the Guide Me or What's New buttons
Walkthroughs for Access Controllers
Access Controllers are required to complete certain onboarding tasks that are not available to other user types.
The menu will include various tasks. Once these tasks have been completed, the system will mark them as completed.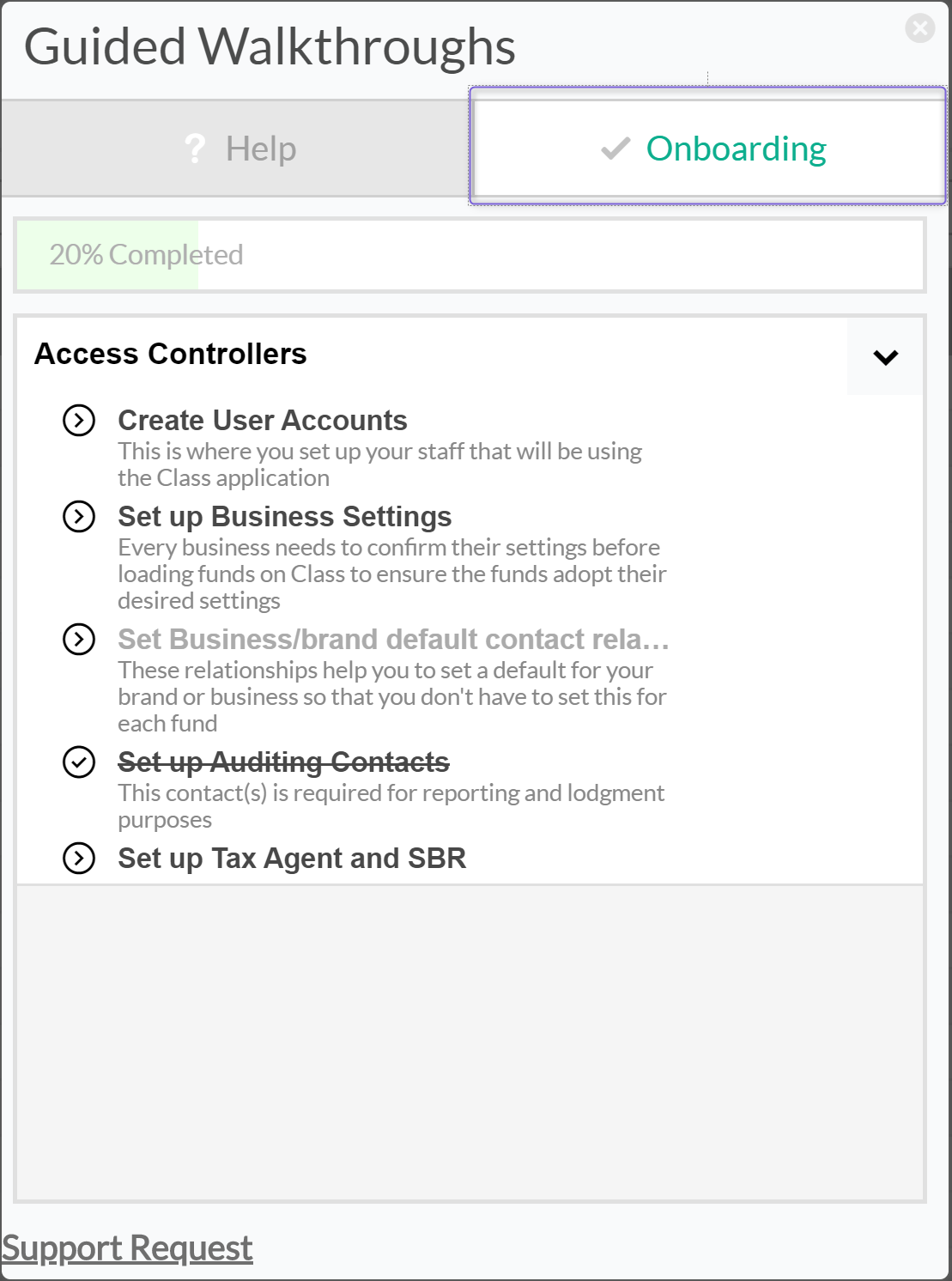 If an onboarding task has been crossed out, it indicates that that task has been completed
List of Walkthroughs
Transitions
TMS-Create Batch

TMS-Upload Files
Data Feeds
Data Feed Authorities Overview
Set up a New Bank Account
Setting Up Data Feeds
Setting up an Adviser for Data Feeds
Pensions
Creating a Pension Account
Set up a Pension Review
Commuting a Pension
Processing
Auto Tax Statement Generation
How to Change an Investment Code
How to Generate and Lodge a TBAR file
Property - Purchasing Property
Property - Selling Property

Set up the individual auditor and organisation

Using tags to filter
Onboarding (for Access Controllers)
Create User Accounts
Set up Business Settings
Set Business/Brand default contact relationships
Set up Auditing Contacts
Set up Tax Agent & SBR