A consolidated portfolio is a list of various SMSFs and non-SMSF entities that are grouped together to create one common entity, eg a family group. This function is ideal for those who have various portfolios or SMSFs with the same client.
Consolidated portfolios display on the Browse Funds screen and the Portfolio List in client view in the same format as existing portfolios display.
When in a consolidated portfolio, you will see what portfolios have been added, a list of portfolio specific relationships, and which of those related parties has access to view the consolidated portfolio.
This article shows you how to create a consolidated portfolio.
There is a limit of 10 individual portfolios that can be included in a consolidated portfolio.
You can only link portfolios within the same Brand.
Creating a new consolidated portfolio
At Business level navigate to Business > New consolidated portfolio
Select Brand (If there is only one brand in the business, this field will default to that brand)
Create a Code for the consolidate portfolio
Enter a Name for the consolidate portfolio
Click Activate




A short cut button to

Client View

will appear:


Add entities to the consolidated portfolio
Navigate to Business level > select the relevant consolidated portfolio:
Click on the Linked Portfolios tab
You can either hold down the

Ctrl

key and highlight the portfolios you wish to add by clicking on them, and then click on the Add selected button, or drag the portfolios into the selected section. You can also click on the +

sign next to the portfolios you wish to add
Click Save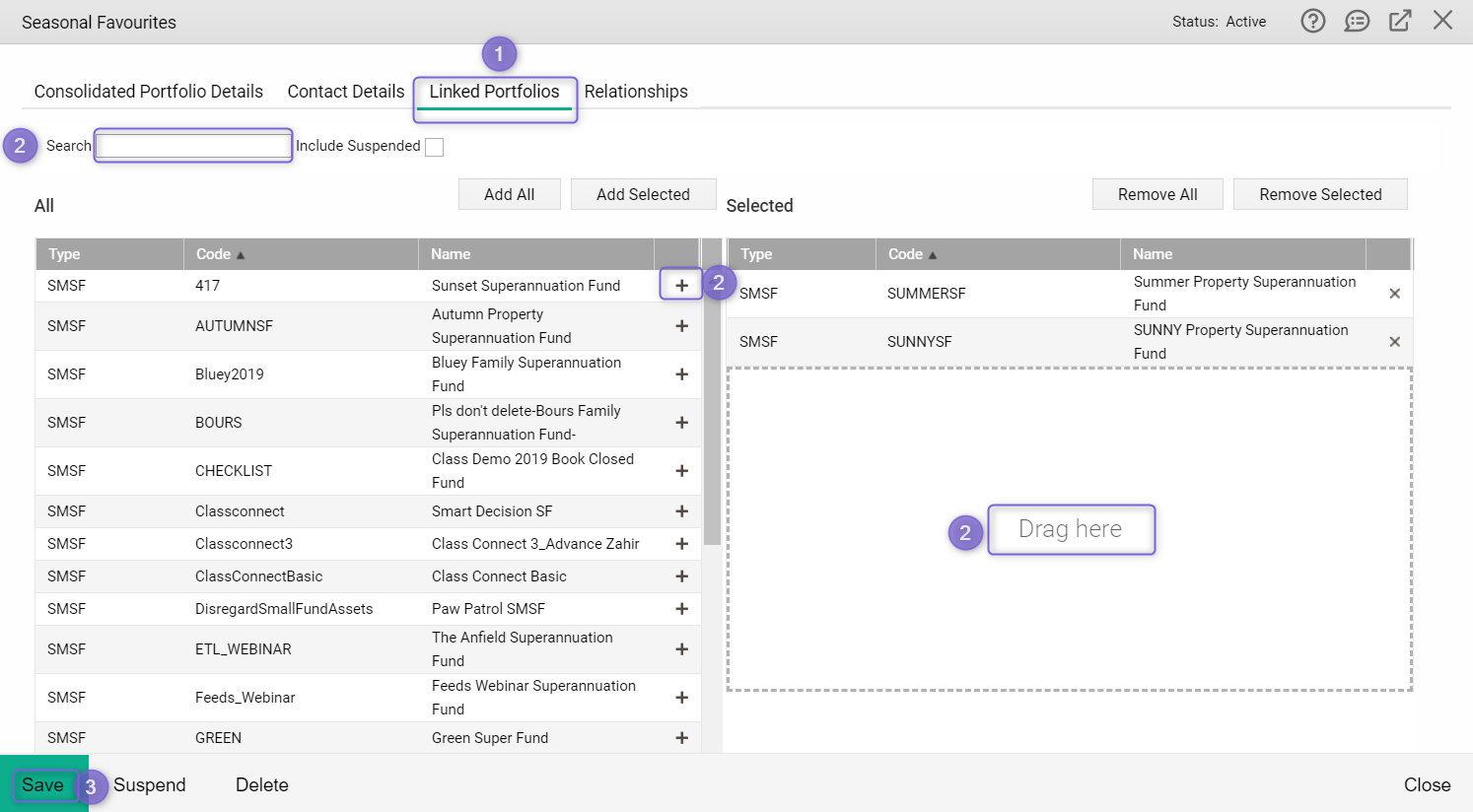 Remove entities from the consolidated portfolio
Navigate to Business level > select the relevant consolidated portfolio:
Click on the Linked Portfolios tab
Select a range of portfolios by selecting a portfolio, then hold down the Shift key, then select the last portfolio to be included, and then click on the Remove Selected

button. Alternatively, you can click on the x next to the portfolios you wish to remove
Click Save